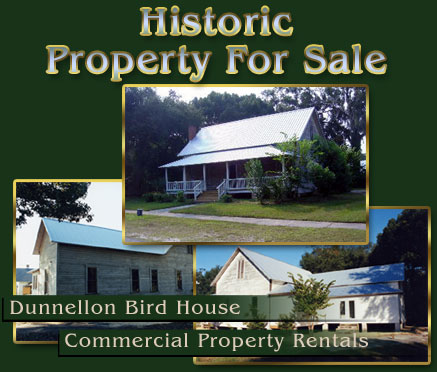 Purchase this One of a Kind Historic District Home. Zoned
Commercial and Residential.
Also available for a long term lease.

Here is your chance to buy real estate in the beautiful Historic District of Dunnellon Florida. This Dunnellon Florida real estate is for sale by owner. The property is for sale or long term lease and is located in the heart of the Historic District of Dunnellon Fl. This prime piece of real estate won't last long. It is in a great location close to restaurants, antique shops and grocery stores. This could also be your chance to make a real estate investment in the Dunnellon area of Marion County Fl, or this could also be your dream home. For more information on our home for sale by owner just give us a call.
1-352-489-1994 or 1-352-843-1759
20740 Walnut St., Dunnellon,Fl.
circa 1908
frame structure, new tin roof
interior walls-original bead board
wood floors
12 foot ceilings with 22 ft. soaring ceiling in main room
2 lots, room for parking
detached carriage house
grand old camphor and oak trees
Located in the heart of the historical district, in
this boom town of the 1890s
Lease this piece of history
Suitable zoning for home or various business types
such as professional office,
specialty shops, antique, crafts, etc.
Take part in the renovation
Call 1-352-489-1994 or e-mail
[Home] [Commercial Property] [Historic Property]